Camberley Lodge Provides Financial Boost To Local Charity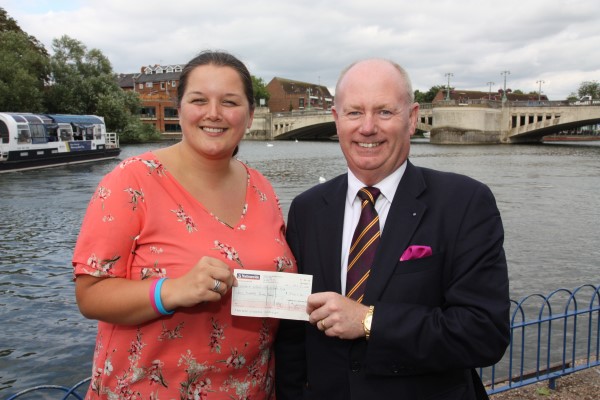 During his year as Worshipful Master of Camberley Lodge W.Bro. Kevin McSorley sponsored local charity Chloe and Sophie's Special Ears Fund. Mrs Karen Jackson the Chairman, Trustee and Founder of the Fund gave a moving account of the work of the charity at Kevin's Ladies Festival inspiring £500 to be raised in support.
This small Charity was the inspiration of Karen whose young children Chloe and Sophie are both profoundly deaf. The Charity's principal aims are to brighten the lives of deaf children by providing resources and equipment for deaf children to support their emotional upbringing.
The first photograph (above) shows Kevin presenting a cheque for £500 to Karen at the Crowne Plaza Hotel, Reading on 14th August 2018.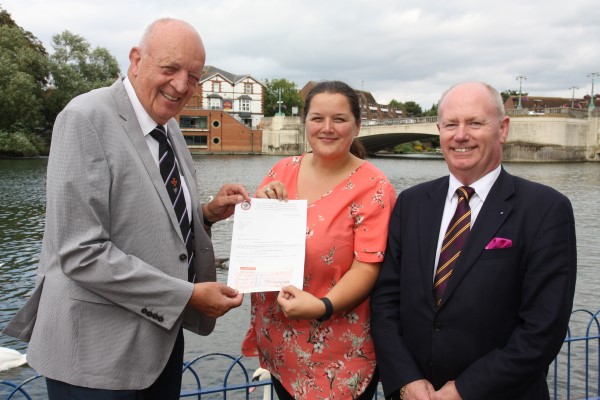 R Ill Kt Bob Hancock, Intendant General for the Red Cross of Constantine Division of Surrey, was a guest at Kevin's Ladies Festival, where he met Karen. He was so impressed by her work that he applied with Kevin, also a member of the Red Cross of Constantine, to the RCC Grand Sovereign's Care for Children Fund, who generously donated a cheque for £2,500.00 in support of the charity.
The second photograph (left) shows R Ill Kt Bob Hancock and Kevin presenting the cheque for £2,500 to Karen.