500th Meeting of Camberley Lodge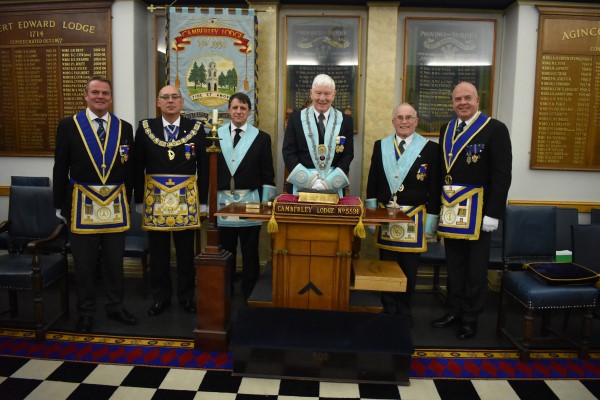 At the 500th Meeting of Camberley Lodge on 2nd October we were honoured by the attendance of R.W.Bro. Ian Michael Chandler, the Provincial Grand Master of the Province of Surrey.
Worshipful Master W.Bro. Alan Prosser, assisted by several Lodge Members, skilfully conducted a First Degree Ceremony to introduce Bro. Michael Bird into Freemasonry.
The first photograph (right) shows the Worshipful Master of Camberley Lodge with his two Wardens, along with the R.W. Provincial Grand Master, the Provincial Senior Grand Warden Nigel Feltham (extreme left) and Provincial Junior Grand Warden Robert Farrington (extreme right).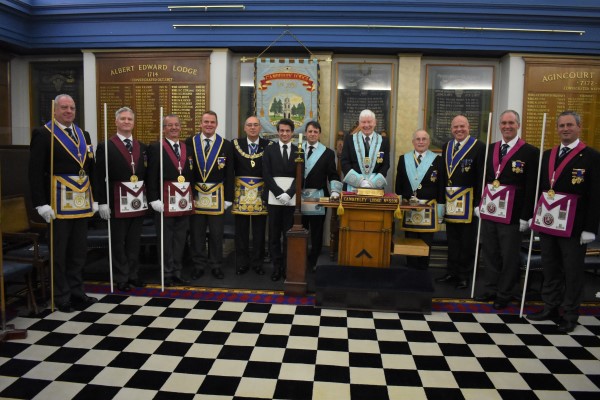 The second photograph (left) also shows the Provincial Deputy Grand Director of Ceremonies and four Provincial Grand Stewards, all of whom formed the escorting party.
Photograph 3 (bottom left) shows the Provincial Grand Officers together with members of Camberley Lodge.
Photograph 4 (bottom right) shows the R.W. Provincial Grand Master in a more relaxed environment, addressing the following Festive Board; together with W.M. Alan Prosser, the Initiate Bro. Michael Bird, Secretary W.Bro. John Hawley and Immediate Past Master Kevin McSorley.
During the meeting, Lodge Charity Steward W.Bro. Paul Marvin presented a cheque for £500 towards the 2019 Surrey Provincial Festival, in aid of the Royal Masonic Benevolent Institution. W.Bro. Paul also delivered an excellent Charge to the Initiate.